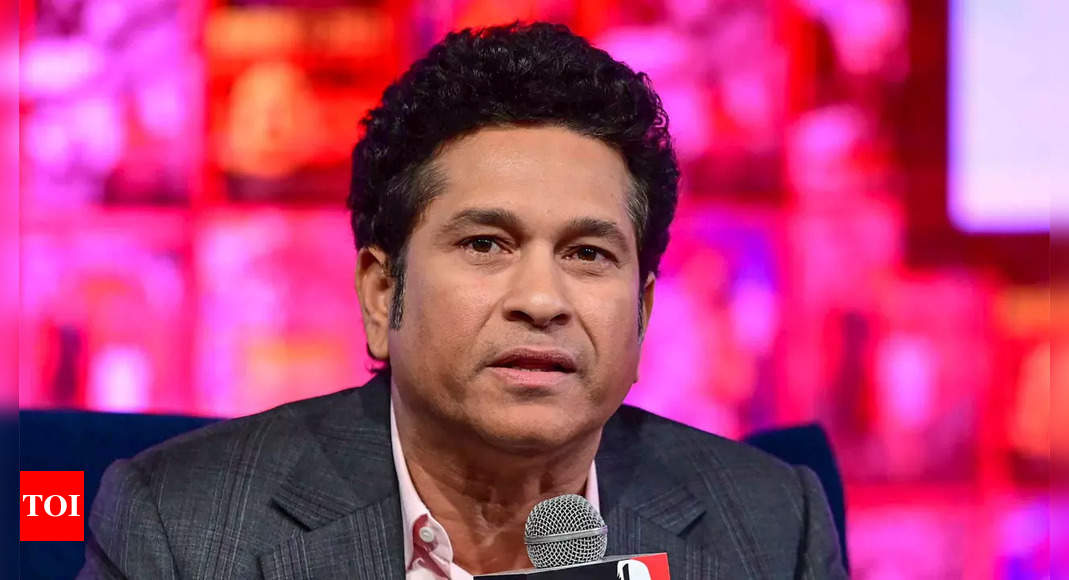 NEW DELHI: Amid an explosion of T20 franchise cricket, diminishing audience interest in the 50-over format and packed scheduling forcing big players to pick and choose formats,
ODI cricket
is facing a battle for survival.
Legendary
Sachin Tendulkar
on Friday weighed in on diminishing interest in the ODIs saying that format without a doubt has become monotonous and is 'heavy' on the bowlers.
"It's getting monotonous, without a doubt. The current format, which has been there for a while now is two new balls (per innings). When you have two new balls, you have kind of eliminated reverse swing.
"Even though, we are in the 40th over of the game, it's just the 20th over of that ball. And the ball only starts reversing around the 30th over. That element is missing today because of two new balls. The current format, I feel, is heavy on bowlers," said Tendulkar.
"Right now, the game is becoming too predictable. From the 15th to the 40th over its losing its momentum. It's getting boring."
Tendulkar opined, that while there was no harm in retaining the 50-over format, teams should alternate between batting and bowling after every 25 overs, as that will give the opponents level-playing ground and take toss, dew factor and other conditions out of the equation.
"So, both teams bowl in the first and the second half. Commercially too it more viable as there will be three innings breaks instead of two."
Three of the Border-Gavaskar Tests between India and Australia recently ended inside two-and-a-half days, leading to a massive criticism of pitches, but Tendulkar said it is part and parcel of cricketer's job to play on different surfaces.
The batting maestro also felt that in order to keep the primacy and attractiveness of Test cricket intact, one shouldn't look at in how many days the match ends, but instead the focus should be on garnering more eyeballs.
"We need to understand one thing that Test cricket should be engaging and it should not be about how many days it lasts, five days or whatever. We (cricketers) are meant to play on different surfaces; be it a bouncy track, a fast track, slow track, turning track, swinging conditions, seaming conditions with different balls," opined Tendulkar on Sports Tak.
He also said that at a time when the ICC, MCC and other cricketing bodies are talking about making Test cricket entertaining and the the No.1 format, there was no harm in matches ending in three days. Besides, touring teams should no think that they will get featherbeds and they should make thorough preparations.
"When you tour, there are not easy conditions. You need to understand what's happening, assess everything and then start planning things. For me, the most important factor is the kind of surface that we play on because that is the heart of Test cricket.
"All the guys, including the ICC, MCC, etc, we are talking about Test cricket. How Test cricket can continue to be the No.1 format. So, if we want that, then we need to have something for the bowlers because bowlers ask a question (off) every ball and the batter has to answer that. So, if that question itself is not interesting enough, how are you going to have more eyeballs.
He indicated sports should be result-oriented and everyone should go home knowing "who won, who lost".
"We should not be bothered too much about number of days. I feel it should be whether the match was exciting enough or not. Nobody wants to go back home not knowing who has won and who has lost," added Tendulkar.
He also said there was no harm in giving the new ball to a spinner if the surface so demanded.
"Instead of a fast bowler bowling an opening spell, why cannot a spinner be bowling a wonderful spell. It's just a different kind of surface we are playing on and that should also be challenging enough for batters to go out there and express themselves … if somebody has batted well, he gets runs, simple."
SHOULD SALIVA BE ALLOWED AGAIN?
Tendulkar advocated that with the Covid-19 pandemic history now, the ICC should reverse its rule on disallowing the use of saliva to shine the ball.
"I am no medical expert but I think it should (saliva) be back because its happened over 100 years. Guys have used saliva and nothing drastic has happened. A couple of years in between were challenging and rightly so that decision (to ban use of saliva to polish the ball) was taken, but now it's (Covid-19) behind us," opned Tendulkar.
Asked if he sees himself becoming a BCCI administrator in the future, Tendulkar said, Maine itni zyada fast bowling nahin ki hai (I have never bowled so fast ever)… because (ex-BCCI president) Sourav (Ganguly) still considered himself a fast bowler," said Tendulkar in jest.
(With inputs from PTI)