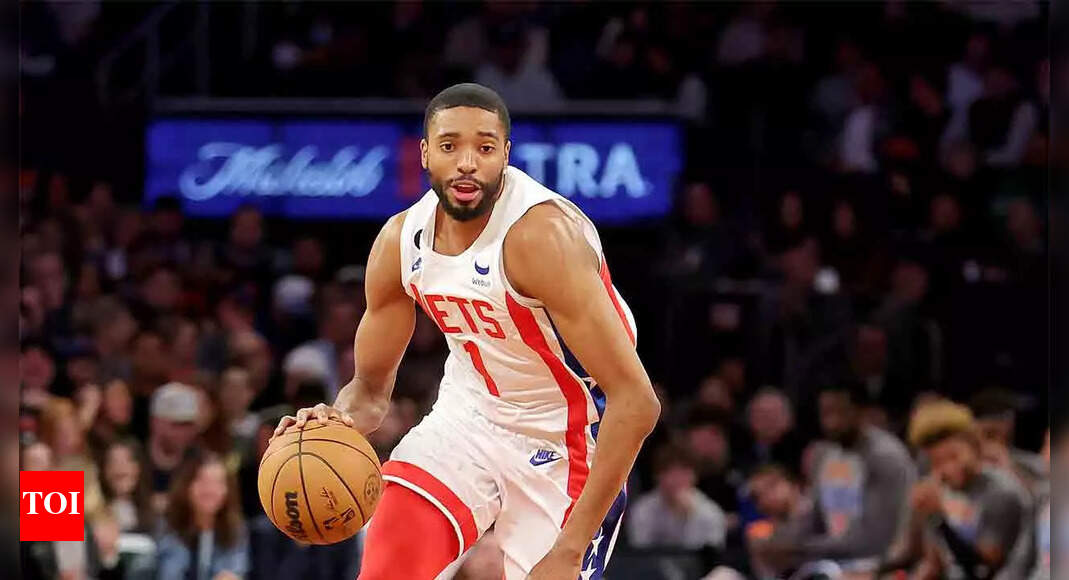 NEW DELHI: The Brooklyn Nets registered the biggest comeback win of the
NBA
season by stunning the Boston Celtics 115-105 on Friday, rallying from a 28-point deficit to beat the Eastern Conference contenders on their home floor.
Brooklyn, who have struggled since the February trade departures of stars Kyrie Irving and
Kevin Durant
were powered by Mikal Bridges, who scored 38 points and grabbed 10 rebounds and Cameron Johnson, who added 20 points.
Brooklyn had lost four straight and looked headed for another lopsided defeat when the Celtics took a 51-23 lead with 7:23 left in the second quarter.
38 PTS | 10 REB | 4 AST | 59.1 FG%Come on now @mikal_bridges 😮‍💨 https://t.co/5xVXvgdQ5F

— Brooklyn Nets (@BrooklynNets) 1677956401000
"We just kept fighting, we got stops and that was the biggest thing," said Bridges, who arrived in the trade that sent Durant to the Phoenix Suns. "It all started with our defense."
The Nets had whittled the deficit to nine points at halftime and took the lead for the first time — and for good — with 6:11 left in the third quarter.
The win marked the biggest comeback of the season, eclipsing the Lakers' fightback from a 27-point deficit in a victory over Dallas.
Jaylen Brown led the Celtics with 35 points. Jayson Tatum, celebrating his 25th birthday, added 22 points with 13 rebounds but the Celtics have lost two of their last three and slipped a bit further behind the Milwaukee Bucks atop the East.

Shout-out to @doefinney_10 💪17 PTS | 9 REB | 2 BLK | 5 3PM https://t.co/vZB7A39sLd

— Brooklyn Nets (@BrooklynNets) 1677946817000
"We got off to a really good start playing the right way and we just took the foot off the gas and it cost us," said Celtics coach Joe Mazzulla.
In Denver, two-time reigning Most Valuable Player Nikola Jokic scored 18 points with 18 rebounds and 10 assists, his 25th triple-double of the season pushing the Nuggets to a 113-97 victory over the Memphis Grizzlies in a battle of the top two teams in the West.
The Nuggets, who are a perfect 25-0 this season when Jokic posts a triple-double, pushed their lead atop the standings to six games.
Michael Porter Jr. scored 26 points and Jamal Murray netted 11 of his 22 in the fourth quarter as the Nuggets pulled away after going into the final period tied.
20 points and a birthday W 👏 https://t.co/xKAezZ1bRQ

— Brooklyn Nets (@BrooklynNets) 1677942937000
"I just got aggressive," said Murray, who is enjoying his ringside seat to Jokic's incredible season.
"He loves to pass and make the right reads and get us going. He's been doing it all season. It's amazing to see every night. You don't know what to say about him because he just keeps doing it."
Ja Morant, wearing a protective mask after suffering a nasal fracture at Houston on Wednesday, scored 27 points and handed out 10 assists for Memphis.
In Miami, Julius Randle scored 43 points, draining the game-winning three-pointer with 1.7 seconds remaining to lift the New York Knicks to an eighth straight win, 122-120 over the Heat.
Jalen Brunson added 25 points for the surging Knicks.
Jimmy Butler scored 33 points for Miami and Tyler Herro added 29. Herro's layup put the Heat ahead by one with 23.1 seconds left to play.
Randle responded, coming up with the game-winner after nearly having the ball poked away by Butler.
Golden State, still awaiting the return of injured star Stephen Curry, posted a fifth straight win, 108-99 over the New Orleans Pelicans in San Francisco.
Klay Thompson scored 27 points and Jonathan Kuminga added 19 off the bench as the reigning champions rallied from an early 17-point deficit.
Family on three. https://t.co/bdvyMzMuhw

— Brooklyn Nets (@BrooklynNets) 1677938402000
The Sacramento Kings held off the Los Angeles Clippers 128-127 — a week after they came out on top in a 176-175 double-overtime thriller against the Clippers.
The Kings, led by 33 points from De'Aaron Fox, were a perfect 26 for 26 from the free-throw line.
In Chicago, Devin Booker drilled six three-pointers on the way to 35 points to lead the Phoenix Suns to a 125-104 victory over the Bulls.
Durant, playing his second game for Phoenix, scored 20 points to help his team withstand a 31-point performance from Chicago's DeMar DeRozan.
(With agencies inputs)