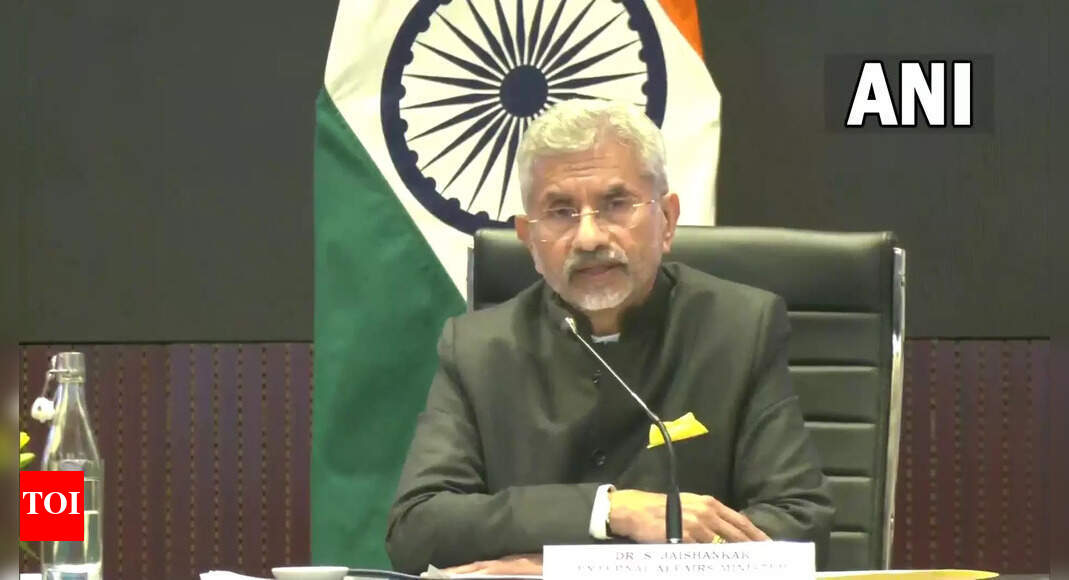 NEW DELHI: The G20 foreign ministers' meeting held in New Delhi on Thursday
ended without the release of a joint communique
due to "divergences that could not be reconciled" regarding the ongoing Ukraine-Russia conflict, said external affairs minister S Jaishankar.
"If we had a perfect meeting … then it would have been a collective statement but there were issues concerning the
Ukraine
conflict," Jaishankar said, confirming that a chair's summary and outcome document was adopted by participating countries.
A chair's summary simply sums up the talks and notes the disagreements raised by some countries.
"We saw participation from all G20 countries. This was the largest gathering of G20 foreign ministers hosted by G20 presidency. Multilateralism is in crisis today in terms of preventing future wars and terrorism," said Jaishankar, while briefing reports about the discussions that took place during the meetings.
"The G20 meetings discussed the challenges of Russia and Ukraine issues and PM Modi advised us to realise 'what unites us and what divides us … These meetings have been affected by geopolitical tensions. PM Modi urged that we had a responsibility for those who were not in the room," said the EAM
FULL TEXT: Chair's summary and outcome document

Impact on Global South
India, as chair of the foreign ministers' meeting, highlighted the impact that the Ukraine conflict has had on the Global South.
"India has been saying very strongly since a year that for much of the Global South this is a make-or-break issue. The costs of fuel, food and availability of fertiliser are extremely pressing issues," said Jaishankar.
He said that many countries of the Global South are struggling with debt and have been severely impacted by the pandemic, "For them, the knock-on effects of the Russia-Ukraine crisis are doubly damaging. This matter is of deep concern that is why we have kept the focus of these meetings on the Global South and vulnerable countries," said the EAM.
He further said that it was "not realistic and credible" to talk about the future of global economy or multilateral order "if you are not able to really address and focus on the issues of those who are most in need".
"PM Modi has said it is important to give voice to the Global South because these countries are actually regressing in terms of unsustainable debt and global warming," the minister said, adding that global decision-making is no longer reflecting today's politics.
He also highlighted that for the first time, the G20 Foreign Ministers discussed the topic of counter-narcotics and called for "inclusive and strong international cooperation in this regard".
Lack of consensus over Ukraine conflict
The two-day G20 Finance Ministers and Central Bank Governors' meeting held in Bengaluru recently also ended without a joint communique after differences over how to describe Russia's invasion of Ukraine could not be bridged.
Finance chiefs from the world's 20 largest economies "strongly condemned" Moscow for waging war in Ukraine, with only China and Russia itself declining to sign a joint statement.
The G20, formed over two decades ago to tackle economic crises, has increasingly struggled to reach consensus among members.
Watch We must find common ground on pressing global issues: EAM Dr S Jaishankar to G20 foreign ministers