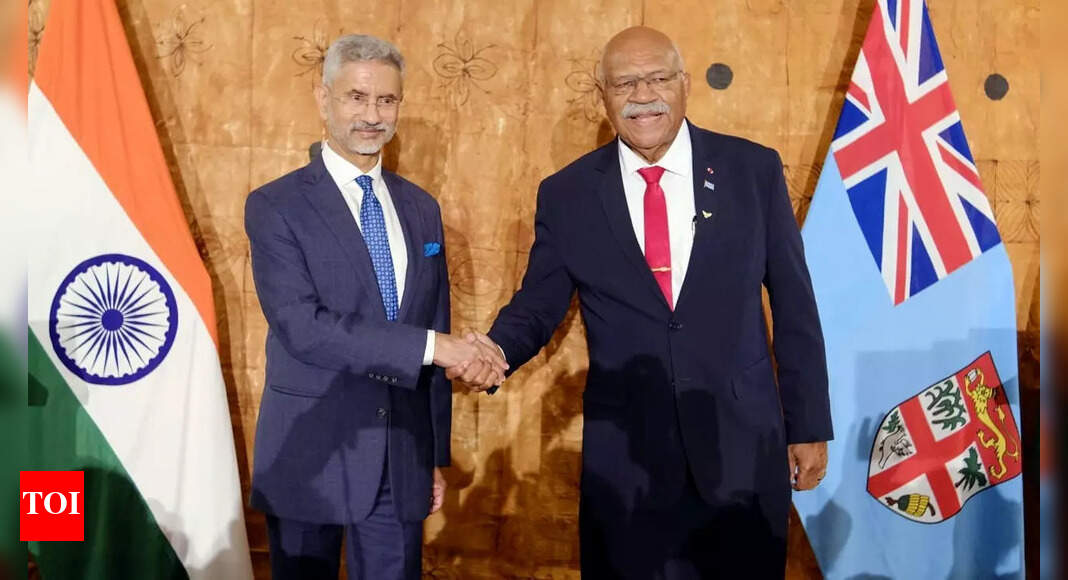 SUVA: Noting that he discussed bilateral cooperation during his meeting with External Affairs S Jaishankar,
Fiji
Prime Minister
Sitiveni Ligamamada Rabuka
on Thursday indicated that China did not figure in the meeting and they thought it was "bad manners to talk about somebody who is not in the building".
"We thought it was bad manners to talk about somebody who is not in the building. We spoke about our own cooperation and we're very fortunate to have such a great power and economy talking to us," Rabuka said.
He was asked if China was discussed in the talks between the Jaishankar and him.
During a media statement with Jaishankar in Suva on Thursday, Rabuka called India Fiji's "special and trusted friend."
He stressed that India and Fiji have built a "robust multifaceted partnership" which covers cooperation in all major sectors of nation-building.
"I'm pleased to say that India will always be a special friend and trusted partner to Fiji,"
Sitiveni Rabuka
said.
"Together we've built a robust multifaceted partnership which covers cooperation in all major areas of nation-building. India has stood by us in times of great need. We're grateful to Government of India for supporting us through the provision of life-saving vaccines and humanitarian assistance," he added.
Sitiveni Rabuka appreciated PM Modi and the Indian government for their support in co-hosting the 12th World Hindi conference in Fiji.
"Fiji appreciates India's commitment towards the development of our pacific region through collective priorities. We are more resolved now than ever to build a strong and sustainable future for families in Fiji, the Pacific and beyond," he said.
"On behalf of Govt of Fiji, I thank the government of India for realising this important cooperation. I'm confident that we will witness many more such initiatives unfolding through the deepening of our cooperation," he added.
In his remarks, Jaishankar said thanked Fiji government for "partnering with us on this very important cultural, heritage exercise" .
"I would like to take this occasion to really publically and sincerely thank the government of Fiji for partnering with us on this very important cultural, heritage exercise we do regularly. The arrangements which were made were truly exceptional."
India and Fiji also signed a Memorandum of Understanding on visa exemption for diplomatic and official passport holders.
"We also just signed and exchanged the visa waiver agreement. It will encourage greater travel between our two countries."
Jaishankar visited Fiji to attend the 12th World Hindi Conference.
During his visit, Jaishankar also called on Fiji President Ratu Williame Katonivere.