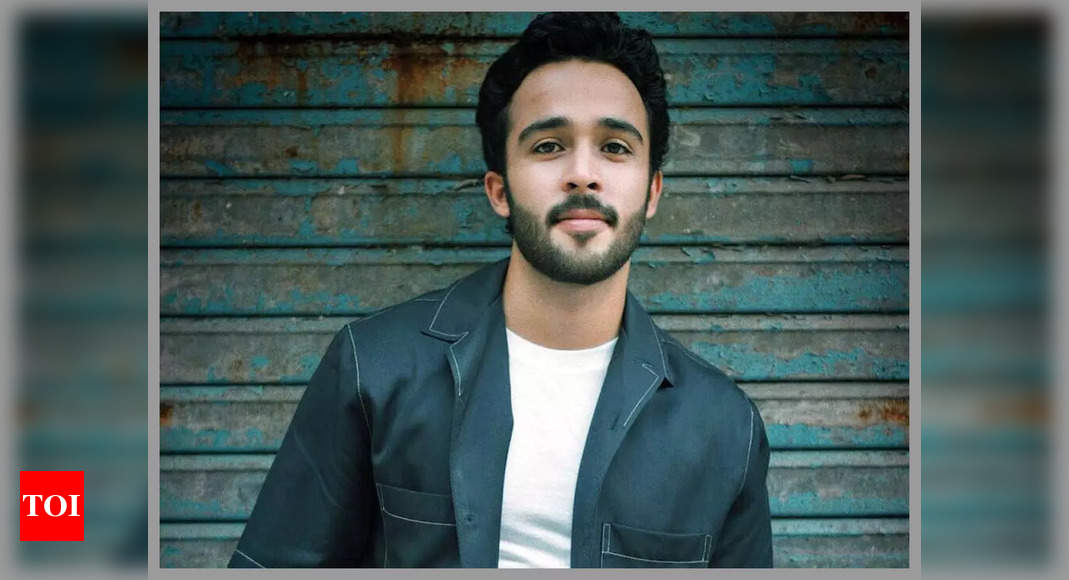 Young Zahan Kapoor is proud that he is following in the footsteps of his grandfather
Shashi Kapoor
and father Kunal Kapoor. He doesn't let the reputation and legacy of the Kapoor surname weigh him down. Instead, he uses the influence of his great grandfather Prithviraj Kapoor to create a different path in cinema, one that's not just about glamour and fame, but about passion and conviction, too. In a chat with ETimes, Zahan recalls memories and influences of his grandfather Shashi Kapoor and more.
Has the weight of the Kapoor surname ever weighed you down?

I don't think it has weighed on me. But it made me aware of two things. One is that if my surname gives me an opportunity or accessibility, it means that I should be prepared. I have to make the most of the opportunity.
The other thing it taught me was to not get caught in the trappings of success and failure, expectations and positioning. I have to be aware of those things but also do my work, be disciplined, dedicated, and let things happen whenever they're meant to. So, my family has not been a pressure but an inspiration.
You debuted with a film like Faraaz, which seems unlikely for a Kapoor family kid. Has the responsibility of being Shashi Kapoor's grandson influenced you?

I think it's just honesty. It is what he taught my father and what my father taught me. It's about being honest, kind and generous. I guess this is what my grandfather must have learned from his father. Prithviraj Kapoor was so rooted and involved and passionate about theatre and telling stories that meant something to the people.

My grandmother's father Geoffrey Kendal also started Shakespearana. They used to perform at the theatre, traveling to different places. His (Shashi Kapoor) first love was there. He went to the movies for money because he had a family to support. He was a young father at 21.
Please go on…

He was doing mainstream Hindi cinema and parallel cinema, he was working abroad. And then he put his money into making films. Because he believed in the art form and empowered storytellers such as Shyam Benegal and Govind Nihalani. I think that legacy is an inspiration for me to be honest and dedicated. My father always taught me to not expect handouts. He said, "I'll share my life knowledge with you but I am not going to give you a pedestal. You have to work from the ground up." My dad made me start working when I was 15-16 with an associate director of his. I did the first two jobs for free. Khana mil raha hai, bahut hai. Then I started to freelance and worked outside too. But I loved the job. I was very much at home with the work – going to a set, rehearsals etc.
What have you learned from Shashi Kapoor?

Dadaji had retired by the time I was born. Till I was 10-12, I didn't know who Shashi Kapoor was. For me, he was only my Dadaji. We used to eat together, and watch films, sometimes he'd scold us as a grandfather does. He would never show us his films. He would watch the news, Seinfeld, Cheers, contemporary cinema and listen to music. As I became a young adult, his health had taken a toll. So, unfortunately, we couldn't have discussions about me entering the world of acting and filmmaking.
And what have you learned from your parents Kunal and Sheena?

Initially, Papa wanted to be on stage as an actor. He did drama school in England. He fell in love with filmmaking as well. He didn't connect as an actor in films but he found his love in filmmaking and advertising. He entered advertising when it was booming and he got to make a mark with exciting campaigns for Bombay Dyeing, Dreamlover, Siyaram's, Scorpio etc. He taught me to be passionate about what I love and be intelligent and aware of everything. I wrote a short film script with a friend when I was 14. Papa taught me editing. He taught me how to place cameras and take shots, colour grading, sound design, music and how these things align with each other in a film. He is also passionate about theatre and Prithvi – the craft, discipline and doing riyaz. Look at Prithvi – you have to be on time, you can't enter late after the interval.
Running a theatre can be an expensive and difficult task.

Of course. This is charity. This is for the people of the country. This is Prithviraj Kapoor's legacy. We're uplifting this. It is not for us. There is no profit in this. This is a very hand-to-mouth situation. We only make sure that the expenses get covered and the staff salary is paid. That's all. I am involved with the backend (logistics) of Prithvi for 10 years. Now, I am a trustee as well.
How did the Kapoor family react to your debut?

It's very special. I am very happy and feel proud that I have done a film that my grandparents would have been proud of. They would have loved it and understood the importance of a film like Faraaz. But I am also very proud that I started acting in the theatre. After my Dadaji, I am the only Kapoor who has started in theatre. I feel proud that I can walk in his footsteps.
Was Shashi Kapoor in a financial crunch because of the films he produced?

Yes. He lost a lot of money because of the films he produced. Those films didn't get support at the box office. But then my father entered into advertising and made his own legacy. Sometimes, when I go to a set, people tell me that they used to work at Papa's company Adfilmwalas. They'd say that they had fun working with him and that they received payments on time. That's the reputation.
If you were to remake one of Shashi Kapoor's films, which one would it be?

I don't think we should. He did many bad films, too. But his classics should not be touched. They should remain classics. His legacy is not hit films. His legacy was to work every day.