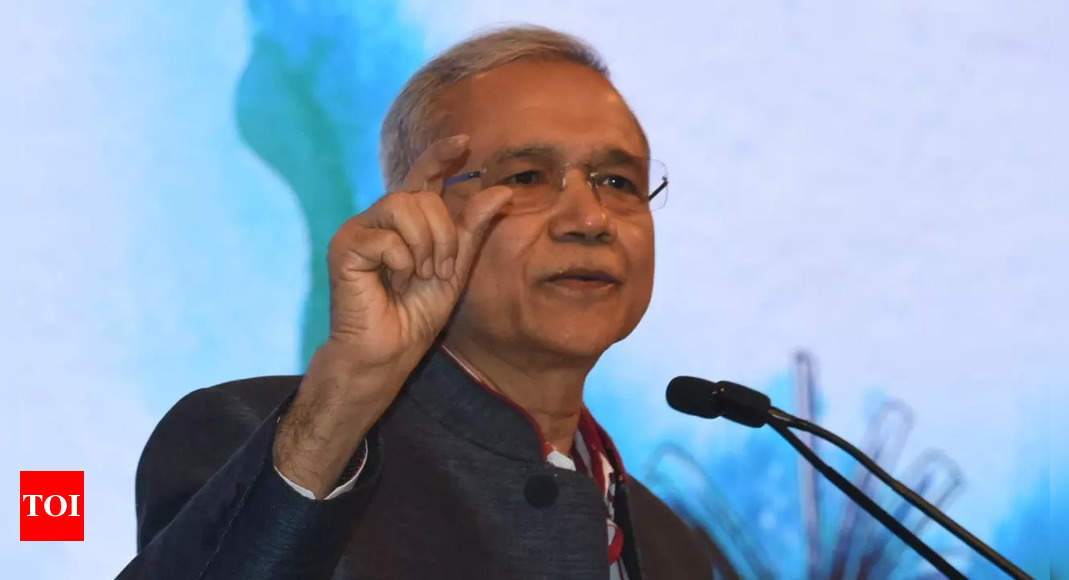 NEW DELHI: In a speech that was both a playful departure from the conventions of literary gatherings as well as a gentle interrogation of the conventional definition of literary canons, Samir Jain, Vice Chairman and Managing Director, Times Group, said India's great spiritual texts, passed down generations, should be read as literature, and the young especially must not limit their reading to standard curricular prescriptions.
Speaking to a packed auditorium in Delhi's Siri Fort, drawing frequent rounds of applause and appreciative laughter, Jain said he hoped that for the audience, the Litfest became a celebration of literature, laughter and love.
Notably, he spoke in both Hindi and English. He began his speech welcoming the Litfest's chief guest, Union cabinet minister Ashwini Vaishnaw, with a few evocative lines in Hindi: "Dil ke saude me chahiye dil, to main dil se aapke dil ko chhukar, aapka dil se swagat karta hun" (We will trade our hearts, my heart will reach out to yours, and I welcome you with all my heart).
Jain switched between the two languages as he explained his central motif – Indian literature is indistinguishable from spirituality – through quotes and couplets from the works of Guru Nanak, Kabir, the Sufi poet Raskhan and the Yogvashisht.
He made it a point to directly address the young among the audience. "I had specifically asked that we have a youthful audience," he said, noting Prime Minister Modi's emphasis on India's youth.
"I see so many teenagers… today is a day of ullas, umang, utsah (joy, zest and enthusiasm)", Jain said, exhorting them to open their minds to books that are not taught.
Education as it is conventionally structured limits students' minds tolearning the prosaic, the supposed skills demanded by the job market, he said. Universities may have 'universe' in their name, but they don't teach students anything about the universe. That, he argued, is why the young rarely encounter the extraordinary literary achievements of India's spiritual masters.
Jain drew a sharp distinction between the "religious" and the "spiritual". Ours is not a religious nation but a spiritual one, he said, and a reader need not be religious to appreciate the beauty of India's ancient texts.
Old texts are the best starting point in a reader's journey, Jain observed, quoting in this context thinker and essayist Nassim Nicholas Taleb, who had famously said everyone should read books that have lasted at least a hundred years. Jain told the young among the audience that the starting point for even popular authors are books that have stood the test of time. The timeless relevance of old books comes from the power of their wisdom, he said.
Perhaps his most pivotal questioning of conventional literary wisdom came when Jain said much of what's considered great writing is preoccupied with the darker impulses of human nature. While there's nothing wrong with such writing, there's no reason why we must consider it to be a defining feature of literature. A text that brings only joy and understanding to the reader can and should be seen as literature, Jain said. And there are no better exemplars of such a literary tradition than India's spiritual texts Illustrating this, he recounted that as a student he had read Shakespeare's Macbeth. Having studied it carefully when young, he still remembers the darker passages of that play, even though he had long discovered the immense literary wealth of spiritual writing. Therefore, if students are only taught what convention dictates is literature, their journey as readers will be incomplete.
His lifelong championing of the lightness of heart, Jain said, has moulded his views of newspapers, too. If newspapers are watchdogs they should be in the sense of easy, pleasurable companionship that dogs offer us. Newspapers, in his view, need not be noisy and inquisitorial. To readers, they must offer first and foremost a daily occasion to celebrate life in all its dimensions.
The Times of India, he said, also strives to be a window to its readers to the world of thought and research. Many people don't read books, he observed, and a newspaper can be their guide to the literary world.