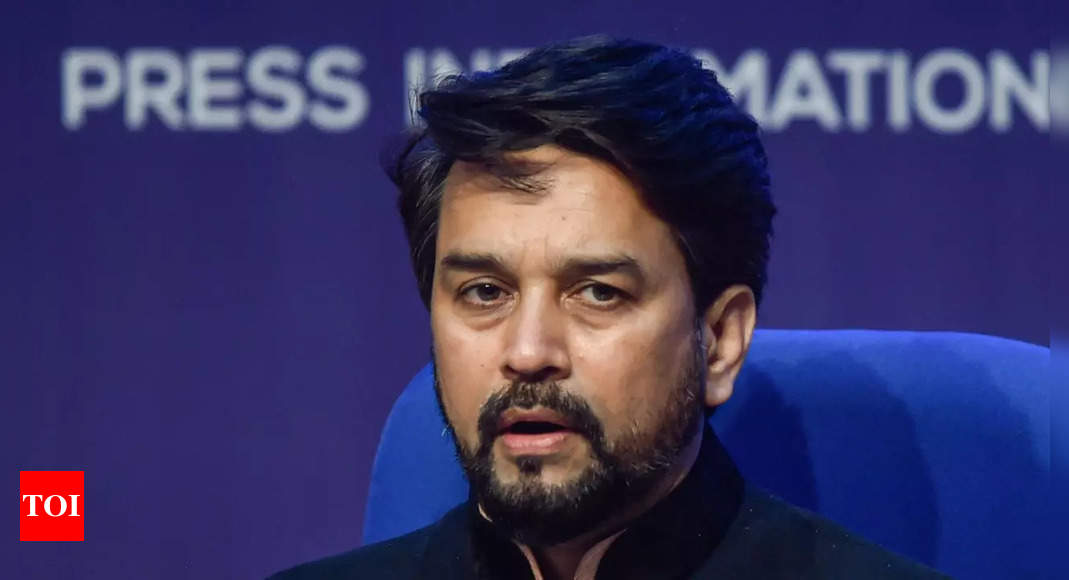 Union information and broadcasting minister
Anurag Thakur
speaks to
TOI
's
Swati Mathur
on the
Union Budget
, opposition protests in Parliament, and why the government believes it must rein in online misinformation campaign. Excerpts from the interview:
The government has said it has presented a pro-poor Budget with a focus on an India of the future. What, according to you, are its highlights?
In the eight years of Modi government, we have made systems transparent and accountable and ensured last mile delivery. To this end 48 crore bank accounts were opened, 9.6 crore Ujjwala (gas) connections were given, and households were given electricity connections. Over three crore houses were built in last eight years and six crore water connections were handed out in two years. The Budget set aside Rs 10 lakh crore as capital expenditure, a 33% increase. Railway outlay grew nine-times from 2013-14 to Rs 2.4 lakh crore, highest-ever for it. Allocations for Pradhan Mantri Awas Yojana also rose 66% to Rs 79,000 crore. Put together, India is looking at a great railway network, house to every poor, and capital expenditure that will lead to greater job creation. Every sector has been taken care of. There are 80 lakh self-help groups, which translate to nine crore women, who will be further linked to the market and given more opportunities to become entrepreneurs.
By investing more during the last two years, we have seen greater job creation. EPFO numbers have doubled, more roads and rail lines are laid each day and infrastructure is getting better day by day. That is how more jobs are created and more investment is coming in. Average per-capita income doubled in eight years. A holistic approach has been taken to address rural and urban needs while keeping an eye on green economy, green investments and green jobs. The Modi government is focusing on India's sustainable future and growth.
The government told opposition that it is willing to answer any questions on the controversy surrounding Adani. Will it allow the opposition's demand for a joint parliamentary probe into public fund investments in Adani Group companies?
SBI, LIC, SEBI and RBI have each issued a statement on this issue. RBI has taken note of the situation and made a statement after checking facts from the banks concerned. Rather than making it a political issue, opposition should look at the facts. The Budget is a very important document for the entire nation and even more so for MPs, who are public representatives. I think the opposition should speak and debate on such issues rather than just trying to disrupt Parliament. They are free to raise issues and hold discussions during the Budget debate. I don't know why they don't want to.
As Union I&B minister you must be aware that media entry into Parliament has been severely curtailed over the last seven sessions, hampering work. These restrictions remain even though Covid-19 protocols are no longer being followed. What measures will you take to restore normalcy and help the media do its job?
This comes under the purview of the Speaker of the Lok Sabha. We will check with him. Work on the new Parliament is also under way.
The IT Rules of 2021 and the government's decision to appoint PIB Fact Check as the arbiter of truth has led to concerns over press freedom and the ability to comment on or criticise the government. Why are the rules being implemented through executive orders rather than by bringing them to Parliament where they can be discussed threadbare? Why should government fact-check things that are written about it?
The concerns are unwarranted and ill founded. IT Rules are framed after due consultation with stakeholders and are very balanced. As for the PIB Fact Check, it is not new. It has been in operation since 2019 and done exemplary work in countering misinformation especially during the time of Covid-19 pandemic. No country can afford to allow an infodemic to spread. The government is duty bound to prevent both circulation and amplification of malicious disinformation.
Recently, you had to step in to address concerns raised by athletes related to Wrestling Federation of India. Would you say the issues have been settled for good?
Not really. A committee has been formed to look into the grievances. This is still work in progress and they will examine the allegations that have been levelled as well as delve deeper into the working of the Federation. They will try and bring more transparency and accountability into the system and fix things if anything is found wanting.