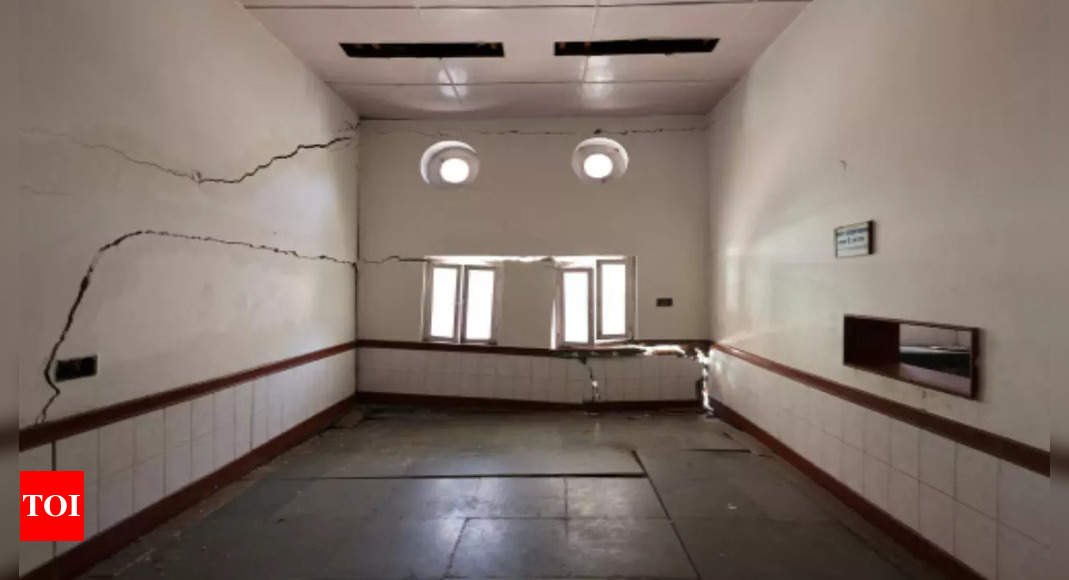 NEW DELHI: In the backdrop of the recent land subsidence episodes of Joshimath area in Chamoli district of Uttarakhand, the government has told Parliament that many parts of the Himalayas have "unstable and dynamic geology, which may lead to land subsidence and landslides". It also said that the region has been witnessing "gradual subsidence".
The government's remarks came while responding to different Parliament questions on Joshimath episodes in the Rajya Sabha last week. Though the ministry of earth sciences (MoES), in its written reply, remained silent on the details of heavy construction works carried out in the region and violations, if any, of the extant parameters, it said "geology of many locations in Himalayan region is unstable and dynamic, and environment clearance is mandatory before any major construction project is taken up".
It said there was no blanket ban on residential or commercial construction, but the local administration can take a decision on imposing restrictions, based on hazard risks.

"As per information provided by the Uttarakhand government, Joshimath is located on a thick cover of very old landslides material. Large boulders of gneiss and fragments of basic schist rocks are observed to be embedded in grey-coloured silty sandy matrix. The region has been witnessing gradual subsidence. This was also reported by a committee set up under Mahesh Chandra Mishra in 1976," said minister of earth sciences Jitendra Singh.
He noted that the report of the Mishra committee suggested that "heavy construction should be allowed only after examining the load-bearing capacity of the ground condition". Joshimath's situation is being monitored: CM Dhami
The minister, however, remained silent on specific questions asked by AAP member Sanjay Singh on the steps taken by the government to implement the recommendations of the Mishra committee and year-wise details on it.
He merely said that all construction activities have been stopped in the entire Joshimath area, including Tapovan-Vishnugad power project and Helong Marwari Bypass Road, after land subsidence incidents.
"The situation is continuously monitored on a 24×7 basis in the state and central governments. Further, the central and state governments are working in close coordination with all the agencies concerned to mitigate the effect of land subsidence in Joshimath area," said the minister. Joshimath land subsidence: People are constantly being talked about compensation, rehabilitation, says CM Dhami